Apex Medical Alert System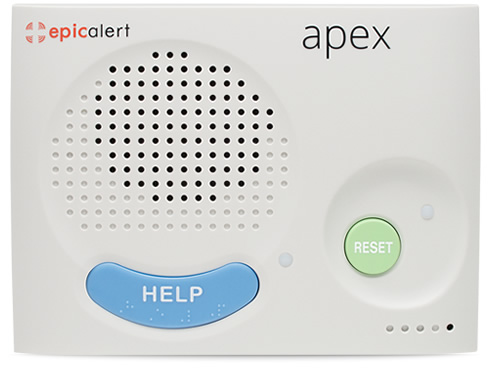 Full featured Medical Alert System.
Apex has multiple advanced and powerful features such as a built-in temperature sensor and voice prompts. Yet, all of these attributes can be accessed by 2 simple buttons to reduce clutter and confusion. Apex Medical Alert System is a powerful device wrapped in a compact and smartly designed package.
Gain unmatched practicality with voice prompts.
Typical systems use a series of beeps and lights to communicate problems and statuses, Apex Medical Alert System goes further with 17 pre-recorded voice notifications. This reduces confusion and is a further reason why Apex is advancing the field and providing better service through quality features.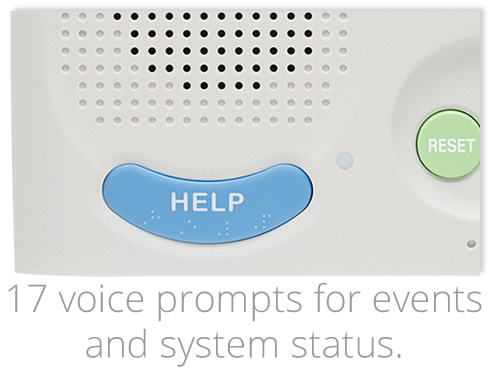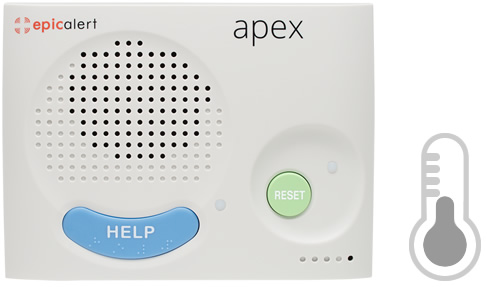 Built-in temperature sensor for increased protection.
In extreme temperatures, a built-in temperature sensor alerts the monitoring station and the user. To expand, when the room becomes too cold (under 10°C) or too hot (over 30°C), an alert is quickly sent to the central monitoring station (CMS) and a voice prompt will inform the user of the potentially unsafe situation.
Intuitive and completely accessible.
A simple press of the help button on the base unit or on the paired pendant will activate the device, allowing the user to call the CMS or programmed phone numbers on the call list. A built-in microphone and speaker allows personnel from a monitoring station to communicate easily with the user. The device can also be programmed to answer incoming phone calls automatically, which enables easy, hands-free communication and reduces stress.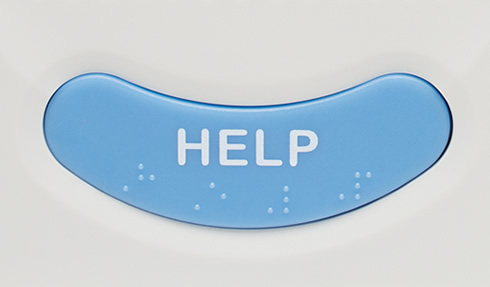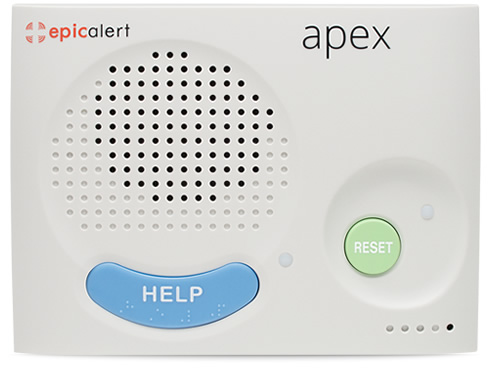 Smart reporting for guaranteed operations.
With automatic detection of low battery on the base unit, telephone line disconnection and power failure, Apex can alert both the user and the monitoring station of any technical issues. Automatic supervision reports can be made daily, weekly or monthly, keeping the monitoring station updated on the status of the device. Should a power failure occur, a backup battery will keep the device running for up to 18 hours until power is restored and the battery can be recharged. Apex allows dealers to quickly service and maintain the status of the devices, to ensure the safety and trust of clients.
Advanced fall detection capability.
Apex gives the user access to our advanced fall detection device, Oval. As one of the smallest and most accurate fall sensors on the market, Oval uses multiple accelerometers to accurately detect a fall and automatically transmit a signal once a fall has been recognized. Contacting help automatically gives users peace of mind in the case of a fall.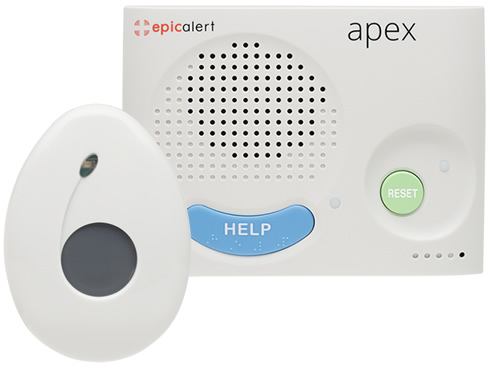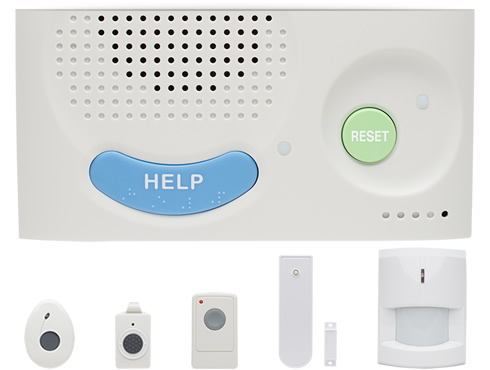 Versatility with support for advanced devices.
Specially designed with a variety of alarm protocols, Apex can support up to 10 devices, adding versatility to the system. Numerous devices are available: waterproof wrist pendants, motion detectors, fixed help buttons, detectors, door contacts and wall communicators. All of these devices provide limitless health and security solutions for the user.
More than what meets the eye.
Apex Medical Alert System can handle telephone functions as well. It can answer incoming phone calls with the press of a button or it can be programmed to answer phone calls automatically. Furthermore, the green reset button can be programmed to dial a non-emergency phone number, allowing the user to easily contact a loved one or caretaker. Up to 4 different phone numbers can be stored in priority order as well; when the device is activated, it will cycle through the numbers until the other line picks up. With these extraordinary features, Apex delivers more than you expect.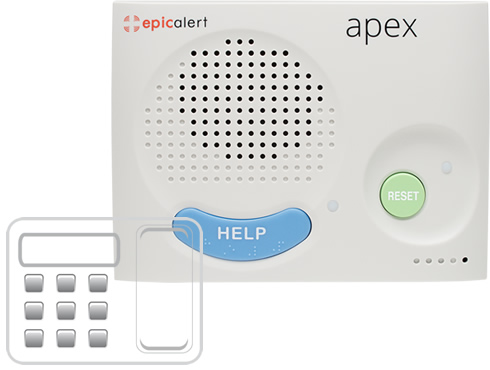 Built in low and high temperature sensor
Central Monitoring Communication Protocols: Contact ID and Voice
Pre-recorded 17 voice prompts identifying various situations for the user
Up to 4 different phone numbers can be stored and called in priority order; call direction for every number
Two-way hands-free voice communication on the base unit
Master control over phone line; can be programmed to automatically answer phone calls
Capable of line seizure
Half duplex and full duplex speech path controlled by DTMF commands
Capable of both remote and local programming using regular DTMF phone
Programmable 0 – 99 seconds signal transmission delay
"Help arrived" confirmation feature; if help has not arrived within a set amount of time, a second signal will be sent
Periodic test transmissions from 1 – 30 days with the monitoring station
Inactivity monitoring for an adjustable period of 4, 8, 12, 16 and 24 hours
Fault reporting for CMS and alerts to user: AC Power failure, Device Low Battery, Pendant out of range and Panel Low Battery
Programmable two-way voice sessions from 1 – 10 minutes
A maximum of 10 devices can be added in one system
Wall-mounting and table-top versions available
Power: 15V 800mA adaptor
Backup battery: 7.2V Ni-Mh rechargeable battery x 6
Battery backup time: Up to 32 hours
Speaker: 3W
Radio frequency available: 433 MHz
Range: 433 MHz: Over 200 meters in open space
Operating temperature: -10° to +45°C
Humidity: up to 90% non-condensing
Dimensions: 200.2 X 149 X 55.5 mm