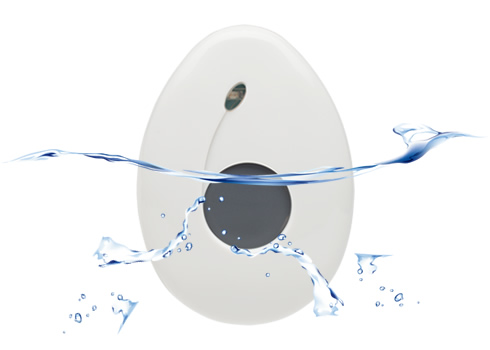 Falls affect one's ability to live life independently. In fact, approximately 1 out of 3 individuals over the age of 65 fall each year, and the risk only increases with age. At 80 years, over half of seniors fall annually. We know that falls are common occurrences, but what happens afterwards? If one falls, it may be difficult to reach the phone or simply press a medical alert button to call for help. This is where Automatic Fall Detection comes in.
Oval is the world's smallest and most accurate fall detector. Oval immediately detects a fall and automatically sends a signal to the monitoring station. Once the alert is received two-way voice communication opens up between the user and monitoring station personnel. From here the monitoring station contacts appropriate help. The fear of a fall can be as disabling as a fall itself;Oval fall sensor gives the user confidence to go about daily activities which lessens the likelihood of a fall.
In the past fall sensors have been scrutinized for false alarm tendencies. For this reason, accuracy was Epic Alert's main focus when it came to the engineering of Oval. The integration of two different sensors enables Oval to accurately differentiate a fall from an accidental movement or bump of the pendant. Better yet, if a false alarm does occur the call can be cancelled – simply hold down the help button for 8 seconds.
Bathrooms and kitchens are the most common locations for fall incidents. The presence of water is a major hazard. Two thirds of all injuries occur in the bathroom. To combat this issue Oval is fully waterproofed, which enables users to take the device in the shower or kitchen without worry.
Oval's effective 130 meters (425 Feet) range in open space and battery life of over 2 years lend peace of mind. The incredible range and battery life enable individuals to feel secure in any area of the home. Knowing that help is available regardless of one's ability to press a button has many benefits. The fear of falling is erased and confidence replaces fear enabling one to continue doing what they love.
What are you waiting for? Check the Oval fall sensor out!